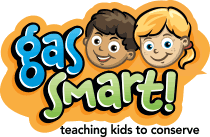 Welcome to Gas Smart!, a series of fun and educational activities to raise awareness of natural gas — its origins, uses and ways to conserve it.
Work these lesson plans into your current curriculum in one day or stretch them out over several. You'll find they apply to science, English, history and math. Teachers' Guides are available for step-by-step instructions and helpful tips.
---
Natural Gas Safety World
A fun, exciting website to teach kids natural gas safety and science. There's a special teachers' area, too!
---